We are joining in with "The
Sibling Family Project
" once again this month, I wanted to take more photo's this year and I am most definitely doing that with all the baby spam lately! All of these photos are taken with my iPhone as I never seem to have my camera in sight but I'm happy with them all the same, but would like to dig out the camera soon!
Last month
I mentioned that Amelia wasn't too sure of her little brother however this month she has started to take more of an interest in him. Every morning when we go downstairs she will ask "Where's Harry" and she will wish him goodnight and blow him a kiss before she goes to bed every evening. She no longer cries when he cries and has started touching his hand or stroking his head when she wants to and not just when I prompt her to. She will even tickle him and is very protective over him especially if something of his is lying about or gets dropped. She's also recently started helping out with bath time and also helps when I change his nappy.
Although she still won't hold him or let me take a nice photo of them both together I know that will come over time so for now I'm enjoying watching her take on her role of big sister and capturing these sweet memorable moments.
I look forward to watching their relationship grow and their bond get stronger over the upcoming months and years.
I can't wait to watch them become the best of friends.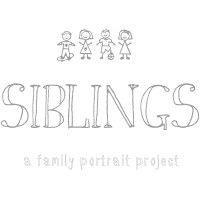 You might also like: