It's a been a good week this week, everyone keeps asking me how I've been feeling, and as boring as it sounds I've been feeling great and just like my normal self apart from a horrible cold which seems to be getting worse. But pregnancy wise there's not really much to update on this week. It feels kind of pointless doing these updates at the moment but I know they will be great to look back on and once I get further along I'm sure there will be more going on.
I'm sure you have already noticed but a little bump seems to have appeared! I'm not sure if it's because I had just had a very big lunch before I took this photo but I've definitely popped, so I shouldn't expect it to be long before the bump gets bigger! I feel bigger, especially when I wake up in the morning now, and last thing at night I feel huge!!! It's so strange because I didn't pop until I was nearer to 30 weeks with Amelia. I'm not feeling as bloated during the day time which I was a couple of weeks ago, but I haven't been as hungry so don't seem to be stuffing my face with junk food ha ha!
At the beginning of the week Amelia kissed my belly! She was playing with her pushchair so I asked her to go and get her baby to put in it as she likes to run around the living room with her in it. She ran over to me, lifted my top and repeatedly kissed my belly! I couldn't believe it as we haven't even told her about the baby yet and she's not been around any pregnant women with bumps either. So I have no idea where she got that idea from but it was really cute!! I can't wait until she does understand though and we can tell her that there is a baby on the way.
I have been going to bed earlier than usual too, seeing as Amelia is now getting up ridiculously early 5/6am! I've been going to sleep at 12am instead of 2am. I literally couldn't function going to sleep at 1/2am especially with getting up so early. But it's been good to get some extra sleep and hopefully I can get rid of this cold I have as it's now gone to my chest.
I had some sickness again at work on Saturday morning and threw up a couple of times but thats the first time since I was 7 or 8 weeks pregnant. I think it was mainly because I hadn't eaten breakfast and it was really hot. It was horrible though as I had to keep stopping in my tracks and running to the bathroom. I've also noticed I've been needing to pee a LOT more this week too. Especially at night.
I w
as waiting for the letter for another scan for the down syndrome testing as my 12 week scan was done at 11+6 and I had to be 12+2 however I haven't received anything other than my 20 week scan letter. But this week I did get another letter mentioning that baby was low risk for down syndrome from my blood test. So I'm guessing that they're not needing me to go in for another scan.
Just two more weeks until we find out if we're team pink or blue!
You can read my 14 week pregnancy update
here
incase you missed it and I'll be back next Friday for week 16.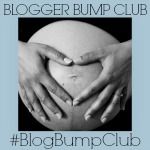 You might also like: