We all know how exciting it is when you find out the gender of your baby and you can finally start splurging on baby items. A
changing bag
is essential for carrying around all your babies items they will need whilst on the go. They can also double as handbags too instead of carrying around two separate bags.
As an unprepared mum, I searched hours and hours online for the 'Perfect changing bag' and couldn't really decide on what I wanted and settled for a Pink Lining because everyone else had one, I haven't used it once! I now have a £40 brown leather bag which I love. I really want the Elizabeth Tan Changing Bag by Storksak - maybe if I hint enough I may get it as a valentine's present.
Choosing a changing bag can be a challenge - with so many colours, designs, and styles to choose from where do you begin? Here I've put together a list of ten changing bags ranging from different price ranges for what ever your budget may be.
Mum On A Mission
Have no budget? Then why not treat yourself to one of these bags that will be the envy of others at your next lunch date.
This luxury changing bag is perfect for Mothers who want elegance and practicality all in one. This changing bag will definitely turned heads.
Elizabeth Tan Changing Bag by Storksak
£195.00
Another favourite of celebrities and the tan colour is perfect to go with most outfits.
Nava
Baby Changing bag
£180.00 RRP £225.00)
A gorgeous changing bag from
Baby Beau
. This is a versatile trendy bag allowing for convience for days out. It comes with some fantastic features such as an adjustable shoulder strap, leatherette padded changing mat, leatherette thermal insulated bottle holder and dust bag! This is an ultimate all-in-one casual chic changing bag!
Average Budget
Don't want to spend too much on a changing bag but want one which will stand out from the crowd? Here is a selection of bags for under £100!
This is more of a girly option. Pink Lining bags are always cute and reasonably priced too.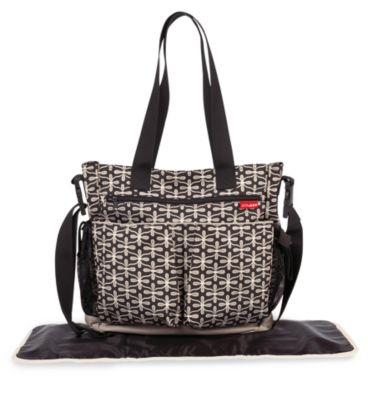 Small Budget
Watching the pennies? Here are a few bags that are under £50 and won't break the bank.
Summer Infant City Tote Changing Bag
£20.00
The lowest priced bag on the list. This little beauty is a neat little bag and also unisex. It holds a decent amount of items and is very durable too. For only £20 you can't go wrong!