You are 5 months old today baby girl! This past month has literally flown by! You have grown so much again this month it's unreal. You are doing so much more. I really wish you would stop growing so I can treasure you being this small...it's not going to last for long! We had you weighed at 20 weeks at baby group and you were 16lb 4oz! So you put on over a pound in 2 weeks. It must be all the food your eating. We will get you weighed again in the week. You are still being nursed. I honestly can't believe I've managed it till now! Such an achievement. I will slowly wean you off soon though as my supply is decreasing. I love having cuddles with you and when you lift your head mid feeding and smile at me. I will definitely miss that.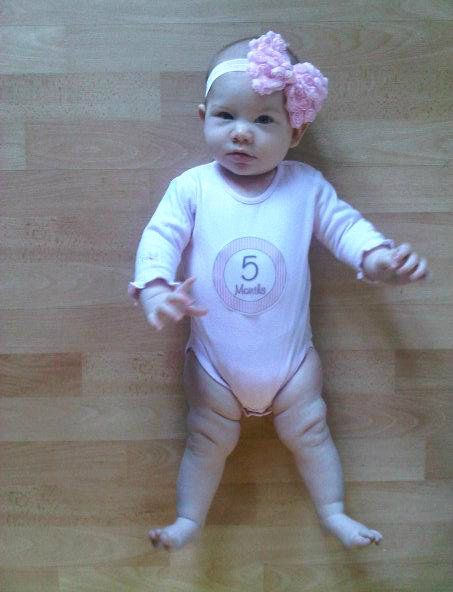 This past month you:
That darn tooth is still cutting through
Are still being breastfed
Still in 3-6 month clothes
Your hair has grown much more
Can stand up!!! (against the sofa)
Are sleeping better at night
Suck your bottom lip constantly
Kick your legs to get attention
You nap less and less nowadays
Mickey mouse clubhouse is your favourite
I hope one day when you are old enough to read this you can see how much your Daddy and I love you. I can't wait to watch you grow up. The past 5 months have been the best.