Hi all,
Hope you all are having a wonderful August so far :) I have decided to do a Introducing series where I will share a few of my favourite bloggers and also new blogs I come across that I like. Hope you enjoy!
Please allow me to introduce one of my sponsors
Berice Baby!
I have Known Charlotte for a few months now we actually met through a Facebook group for 'April babies' as both of us had babies born in April and we are both from the UK we got chatting on a regular basis. Then I found out she had a blog too! YAY! Her little boy is so adorable and she also has a great Youtube channel where she vlogs.
Just look at her header and design...it completely draws me in. Everything about is just ADORABLE! Lotte from
Berice Baby
is such a lovely mummy as well.
Have you checked out her fabulous blog yet? If not then what are you waiting for!
You won't be disappointed.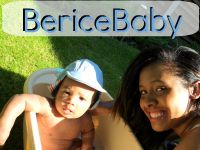 You can also find Lotte here:
Instagram: @bericebaby