This week I thought i'd try something different. I am yet to find an Instagram link up in the blogosphere (sorry if there is already one) But I for one am an Instagram addict and love to post pictures of my little bundle of joy. If you do too then this link up would be perfect for you.
I love following new people especially if you have a baby/toddler it makes it more enjoyable and I love following my regular followers and watching their little ones grow.
All I ask you to do is link your blog and add your Instagram name (NOT YOUR BLOG NAME) to the list below so everyone can follow each other.

Add me @ohsoamelia I follow back.
Grab the button from below, and link-up your Instagram name its that easy!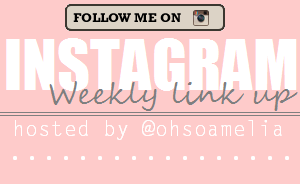 < a border="0" href="http://www.oh-so-amelia.blogspot.co.uk" target="_blank">< img src="http://i35.photobucket.com/albums/d166/kerryxnx/instagramlinkup.png " height="150" width="150"/>